Excellent Feedback from a full house at the Drogheda Grinds Academy Study Skills & Exam Motivation Seminar with Enda O'Doherty – 19th of February 2017.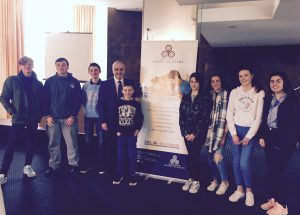 It was really good, funny and entertaining. I learnt a lot. Every 1st year should be made go to this seminar. It's set me up for the rest of the year.  1st Year – St Mary's
I thought it was very good and really funny. It will really help me study better. 2nd Year – Greenhills
I thought it was very helpful and I have learnt loads of new study techniques from the day. I hope some of what I have learned today will help me in the future and to achieve my goals. Thanks very much TY – Ashbourne Community College.
Really funny and I enjoyed it. Realised that studying doesn't need to be boring, and I have a different outlook now on the way I learn at school. 2nd Year – Colaiste Laytown
Good study tips that are easy to remember will defo use them for the rest of the year 3rd – Loreto Balbriggan.
I found it extremely helpful and it felt good to hear from a fellow dyslexic person as I've always doubted myself whilst studying and put myself down. Thank you for the motivation to keep going with my study Enda. 2nd Year
I thought the day was absolutely brilliant and the learning, humor, notes were all really helpful for me for my upcoming exams. I am sure using these study methods will help me get better grades than before.  3rd Year Sacred Heart
Good tips, very interactive and funny. Regular breaks were good too – Thank you!
Really interesting tops and motivating, actually feel compelled to follow the tips and work harder for my future – 5th Year
It was a great day. Great teacher, very good at getting his message across, also very funny. Thanks
I though the day was great craic and I learnt loads that I didn't think I would. Enda was very helpful and funny. Good luck on the climb – 1st Year St. Josephs Drogheda.
I thoroughly enjoyed my day today. I learnt loads of new study skills and techniques which I hope to try out in the near future! Thanks it gave me a more positive and open mind about studying. Thanks a mil! 6th Year – Greenhills, Drogheda.
Very interactive, 10/10, good speaker – thanks! TY student
I thought today was good and I learned better ways of studying and how I could improve my grades. Good luck Enda with the climb of Kilimanjaro. I hope you make it to the top. You were really funny and kind. 2nd Year Sacred Heart
Thank you so much for an enjoyable day. I learned a lot and I am going to put the study skills into action and score higher on exams. Thanks again, enjoyed it. 6th Year Gormanstown.
Next dates to be announced shortly.
Best Study Skills and Exam Motivation Seminar with Enda O'Doherty