Summer Academy – Going into 6th Year then 'GET AHEAD' this July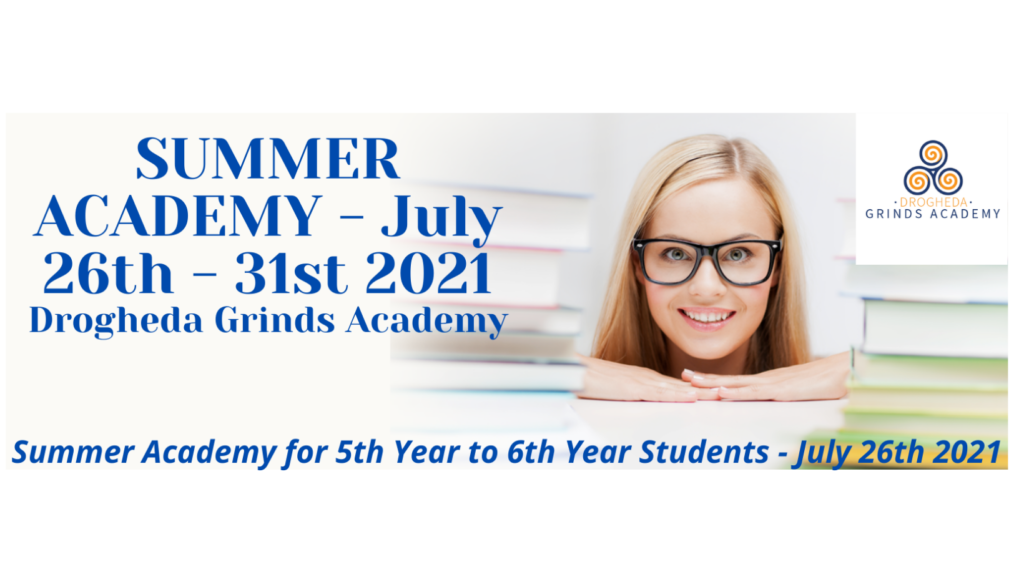 Students going into 6th year in September can take full advantage of this summer and catch up on classes missed during 5th year while getting ahead on what to expect in 6th year and a some preparation of the Leaving Certificate exams. Due to demand we have added a Summer Academy this year the week of the 26th of July 2021. These intensive classes will be full 5th year revision of core and important topics especially in Maths, English and Irish at higher level. Teachers will outline what to expect in 6th year and give a detailed breakdown of exam papers, marking schemes and how to get the best out of 6th year.
Each student can select three 1 x day subjects in the 3 for 2 deal for 295 Euro. All classes must be booked in advance as each class is limited again due to ongoing health and safety for Covid. Classes start 10am – 4pm each day. This is a unique opportunity to catch up on missed time from 5th year and get ahead for 6th year with a full view of what is expected in exams June 2022. All teachers are experienced Drogheda Grinds Academy teachers with excellent notes and small class sizes. Please note the office is closed June 2021 for holidays so book before May 28th or complete the booking form below and put down your three subject requirements. If places are available you will be contacted by email within 48 hours or call 041 9844696.
*PLEASE NOTE EACH DAY = 1 COURSE
3 for 2 – 1 day each – 10am – 4pm at Drogheda Grinds Academy – Note max of 10 students per class
Summer Academy Timetable
Monday 26th of July – LC Maths HL Paper 1
Monday 26th of July – LC French HL ORAL
Monday 26th of July – LC Accountancy HL
Tuesday 27th of July – LC Maths HL Paper 2
Tuesday 27th of July – LC Business HL
Tuesday 27th of July – LC French HL Written
Wednesday 28th of July – LC English HL Paper 1
Wednesday 28th of July – LC Biology HL – Class 1
Wednesday 28th of July – LC Spanish HL ORAL
Wednesday 28th of July – LC Maths OL Paper 1
Thursday 29th of July – LC English HL Paper 2
Thursday 29th of July – LC Biology HL – Class 2
Thursday 29th of July – LC Spanish HL Written
Thursday 29th of July – LC Maths OL Paper 2
Friday 30th of July – LC Irish HL ORAL
Friday 30th of July – LC Physics HL
Friday 30th of July – LC German HL ORAL
Saturday 31st of July – LC Irish HL Written
Saturday 31st of July – LC Chemistry HL
Saturday 31st of July – LC German HL Written