For Leaving Certificate 5th & 6th Year Students – Bí ag Caint – Leaving Certificate Oral Handbook – €15
Irish Oral is worth 40% of the overall mark at Higher and Ordinary Level in the Leaving Certificate – Order your copy today for 2018/2019
Students may purchase copies directly from the Drogheda Grinds Academy Reception
Order Online Here

For Junior Certificate 2nd & 3rd Year students – Anoís atá tú ag caint – Junior Certificate Oral Handbook – €15

Written by Irish Teacher Brendan Kindlon and free to all Drogheda Grinds Academy JC & LC Irish Students.
Order Online Here
A Mhúinteoirí,
Is múinteoir Gaeilge mé atá fós ag múineadh i gColáiste Loreto i Sord.  Táim á scríobh chugaibh faoi dhá leabhar a scríobh mé le déanaí.  Is lámhleabhair iad "Bí ag Caint" agus "Anois atá tú ag caint!" a chabhraíonn go mór le daltaí ullmhúchán maith a dhéanamh don bhéaltriail.  Cabhraíonn na leabhair seo go mór leis na scoláirí chun feabhas a chur ar a líofacht sa teanga agus de bharr sin lena gcumas marcanna arda a bhaint amach san mbéaltriail.
Tá na lámhleabhair seo bunaithe ar na blianta taithí atá agam féin mar mhúinteoir,  fiche bliain mar scrúdaitheoir, deich mbliana mar mhonatóir agus cúig bliana mar scrúdaitheoir comhairle do na béaltrialacha leis an Roinn Oideachais agus Scileanna.  Úsáidtear "Bí ag Caint" le cúpla bliain anuas i scoileanna éagsúla timpeall na tíre, cheap na múinteoirí uilig go raibh an lámhleabhar an-úsáideach ar fad. Táim lánchinnte de go mbainfidh sibh sult agus tairbhe as an dá leabhar.
Mise le meas,
Breandán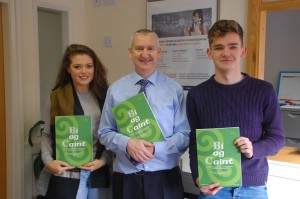 "Testimonials"
"Is leabhar luachmhar, spéisiúil agus faisnéiseach é seo agus molaim é do dhaltaí Ardteiste".
Ruth McKenna, Coláiste Loreto, Baile Brigín
"Is leabhar cuimsitheach é an leabhar seo don scrúdú cainte.  Molaim go hard é"
Daire Ní Mhaoileoin, Coláiste Mhuire, An Muileann gCearr
"Is leabhar an-phraiticiúil é a thugann treoir do na daltaí ullmhúchán cruinn a dhéanamh don bhéaltriail, agus deis dóibh oibriú as a stuaim féin"
Roinn na Gaeilge, Coláiste Loreto, Sord
Is lámhleabhar  an-chabhrach é "Bí ag Caint" a ullmhaíonn na daltaí don scrúdú cainte i stíl simplí agus nadúrtha.  Dirítear aird an dalta ar réimse leathan foclóra agus nathanna cainte atá oiriúnach don scrúdú.
Sinéad Nally, Skerries Community College