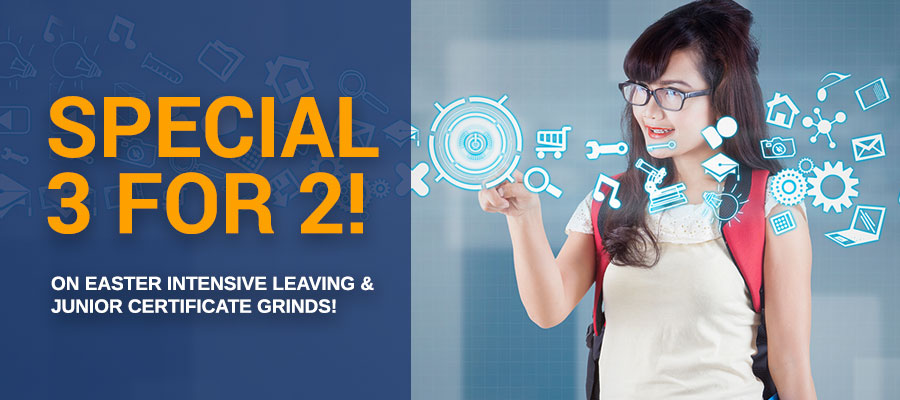 Schedule for EASTER INTENSIVE GRINDS 2019 below
Attention Junior & Leaving Certificate students;
Book now for 1 day Exam Focused Intensive Revision during EASTER for Junior & Leaving Certificate exams.
Students are provided with exam techniques, study plans, how to improve your marks and excellent notes from teachers that have corrected the state examinations.
Classes run 10am – 4pm per subject (LC Maths 9am – 3pm)
Each class is limited to 12 students for Junior and 14 for Leaving (18 for LC Maths) so early booking is advised.
Special 3 for 2 offer of €295 or 1 subject €150. (**Existing Student Offer €100 for single class bookings**)
Call 041 9844696 to book or fill in the Book Now form below.
LIMITED PLACES – Also Navan & Swords Locations
Students are provided with detailed revision notes packs for each subject
Experienced Teachers – Excellent Notes – Small Classes – Exam Focused

Leaving Certificate Easter Intensive Revision Dates
LC Biology HL – Saturday 13th of April – 10am – 4pm
LC Irish HL – Saturday 13th of April – 10am – 4pm
LC Spanish HL – Sunday 14th of April – 10am – 4pm
LC DCG HL / OL – Sunday 14th of April – 10am – 4pm
LC English HL – Sunday 14th of April – 10am – 4pm
LC French HL – Monday 15th of April – 10am – 4pm
LC German HL – Monday 15th of April – 10am – 4pm
LC Maths HL – Monday 15th of April – 9am – 3pm
LC Physics HL – Tuesday 16th of April – 10am – 4pm
LC Maths OL – Tuesday 16th of April – 9am – 3pm
LC Economics HL / OL – Wednesday 17th of April – 10am – 4pm
LC Geography HL / OL – Wednesday 17th of April – 10am – 4pm
LC Business HL – Thursday 18th of April – 9am – 3pm
LC History – Thursday 18th of April – 10am – 4pm
LC Chemistry – Wednesday 24th of April – 10am – 4pm
LC Home Economics – Saturday 4th of May – 10am – 4pm

Junior Certificate Easter Intensive Revision Dates
JC Maths HL – Sunday 14th of April – 10am – 4pm
JC Science – Tuesday 16th of April – 10am – 4pm
JC Maths OL – Wednesday 17th of April – 10am – 4pm
JC Business – Wednesday 17th of April – 9am – 3pm
JC English HL – Thursday 18th of April – 10am – 4pm
JC Irish HL – Tuesday 23rd of April – 10am – 4pm
JC German – Wednesday 24th of April – 10am – 4pm
JC Spanish – Wednesday 24th of April – 10am – 4pm
JC French – Wednesday 24th of April – 10am – 4pm